FAST DELIVERY • Call us on: 0115 714 9957
Added to your Basket
Xerox 016-1543-00 Dry ink in color-stix, Pack qty 2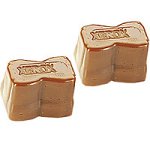 Phaser 380 - Yellow ColorStix® Ink ( 2 Sticks)
SKU: 016154300
EAN: 0042215425827
Our Ref: 39919254
Stock: Currently out of stock
Call 0800 980 6717 for price and availability
Engineered exclusively for unparalleled performance with the Xerox Phaser Color Printer range, Xerox Phaser ColorStix solid ink introduces unique interlocking ink shapes for improved performance in the ink loader and a unique numbering system further simplifying the ink loading process. Unmatched simplicity, exceptional color, flawless performance and nothing to recycle-expect only the best from Genuine Xerox supplies.
Phaser 380 - Yellow ColorStix® Ink ( 2 Sticks).
Used With Phaser™ 380 .
Capacity* 2,000 pages .
* Supply capacities are based on 5% coverage on an A4-size page.
Compatible Printers: Xerox Phaser 380 I, Utax DCP 3808
Also Available